Through the project "Covid-19 Nexus response for improving the socio-economic situation of marginalized people in 6 Western Balkans countries", 11 women in Vranje were supported with 11 grants for starting their own business in order to improve the socio-economic situation caused by COVID 19.
In order to provide the grant receivers with the necessary support in the empowerment process for developing their own business, representatives of CARE and NEXUS visited them at the end of April this year to observe achievements and possible obstacles but also to come up with solutions if needed.
The interviews with all women, supported through the project, were conducted in the form of a uniform questionnaire by it was concluded that they were satisfied with the whole process they went through, from the competition, through training, acquiring knowledge to write a business plan, to delivery of desired items…
"Through conversations with the women, we saw high motivation for their own employment and earnings. The grant receivers set up the equipment in a designated area, and they are familiar with the handling of machines and tools. Also, they intensively monitor the needs of the market in order to better adapt their services to that. They are very grateful to the organizations for the donation", said Branisalv Tanasijavić, CARE International Balkans project manager.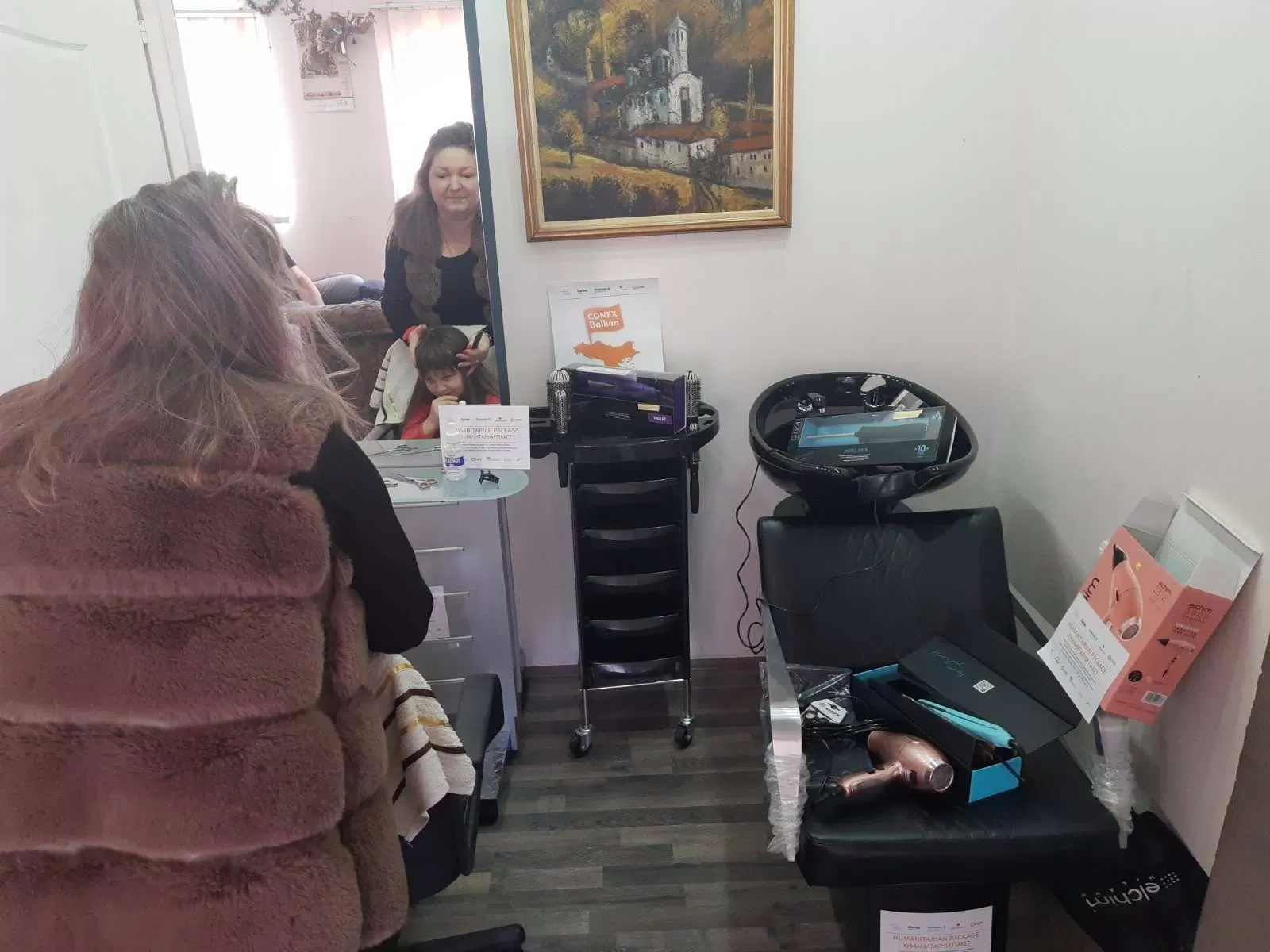 The hairdresser, Jasmina, from the newly equipped salon said: "I am glad to make someone happy who is fighting the same as me, so I will cut the hair of an unemployed woman for free every 4th of the month. I have four children, so I chose that date. I want to spread humanity further!".
Milena, who decorates the space for celebrations, emphasizes the use value of the equipment: "The machines I got mean a lot to me because the market demand for my services is great now, but it is very difficult to get such machines. Thank you CARE and NEXUS for this support, which means a lot to me both through this donation and through the expressed humanity and attention".
Ana Ljubić is unemployed, a graduated sociologist who started a business with a fruit and vegetable dryer. "My idea is to further process the obtained dried fruit, such as prunes, and offer them to the market as a confectionery product", said Ana.
Physiotherapist Andrijana said that people of different ages now call her to help them. "Now it is important for me to finish my professional practice as soon as possible and to focus my time on therapeutic work. It means a lot to me that the equipment I received through the donation is mobile and that I can go to the patient's address and the patient does not have to come to my village", she concluded.
Hairdresser Suzana said that the place, which is equipped through the grant, is in a great location, and that she has lots of customers. "Although it is a bit far from the center, we have customers. My husband and I are already making money that we are happy with, to begin with. We occasionally hire a third party who provides manicure services in our salon", said Suzana.
The following small businesses for women's self-employment were also supported by donations of equipment: production of formal dresses and women's clothing, production of cakes and cookies, furniture production, catering services.
"It was especially important for the partner organizations to know that there has been no abuse of users during the entire work so far, because, among other things, our mission is to direct our users and associates to functional mechanisms of protection against violence", says project coordinator in Vranje, Suzana Pantovic.
The project "Covid-19 Nexus response for improving the socio-economic situation of marginalized people in 6 Western Balkans countries" is implemented by CARE International in Bosnia and Herzegovina and UG "NEXUS-Vranje", funded by the Austrian Development Agency.